How should teachers be using Microsoft 365?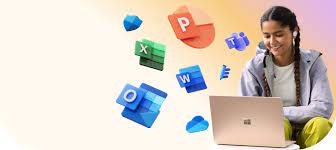 How Should Teachers Be Using Microsoft 365?
Microsoft 365 offers a comprehensive suite of tools and applications designed to support educators in their teaching journey. With a range of features and functionalities, Microsoft 365 provides teachers with the resources they need to enhance classroom engagement, streamline administrative tasks, and promote effective collaboration. In this blog post, we will explore how teachers can harness the power of Microsoft 365 to elevate their teaching practices and create dynamic learning environments.
1. Create Engaging Lesson Materials with PowerPoint:
Microsoft PowerPoint is a versatile tool that allows teachers to create visually appealing presentations and interactive lesson materials. Use PowerPoint to deliver engaging lectures, share important information, and present content in a visually stimulating manner. Leverage features like animations, transitions, and multimedia integration to capture students' attention and facilitate effective knowledge transfer.
2. Foster Collaboration with Microsoft Teams:
Microsoft Teams is a powerful collaboration platform that enables teachers to connect with their students, facilitate discussions, and foster a collaborative learning environment. Create dedicated class teams where students can interact, share resources, and work on group projects. Use the chat feature to provide instant feedback and support, and schedule virtual meetings for synchronous learning experiences. Teams also integrates with other Microsoft 365 applications, allowing seamless access to shared files and resources.
3. Streamline Classroom Management with OneNote:
OneNote serves as a digital notebook that helps teachers organize lesson plans, create digital handouts, and provide personalized feedback to students. Create different notebooks for each subject, add sections and pages, and easily distribute and collect assignments. OneNote's collaboration features enable students to collaborate on projects, while the tagging and search functionalities allow for easy organization and retrieval of information.
4. Simplify Grading and Assessment with Microsoft Forms:
Microsoft Forms is a user-friendly tool that allows teachers to create surveys, quizzes, and assessments. Design interactive quizzes to gauge students' understanding, collect feedback on lessons or activities, and create surveys for data collection. Microsoft Forms automatically grades multiple-choice questions, saving teachers time on manual grading. Utilize the analytics feature to gain insights into student performance and identify areas for improvement.
5. Enhance Communication with Outlook and Teams:
Microsoft Outlook is an efficient email and calendar tool that helps teachers stay organized and communicate effectively with students, parents, and colleagues. Use Outlook to manage your emails, schedule meetings, and set reminders for important deadlines or events. Integrated with Teams, Outlook allows you to schedule virtual meetings, send notifications, and easily share documents and resources.
6. Store and Share Resources with OneDrive:
OneDrive provides teachers with secure cloud storage to store and organize their instructional materials, lesson plans, and resources. Upload and share files with students, colleagues, or administrators, ensuring seamless access to important documents from any device. OneDrive's collaboration features enable real-time co-authoring, making it easy to work on shared files and collaborate with others.
Microsoft 365 empowers teachers with a suite of powerful tools and applications to enhance their teaching practices and create engaging learning experiences. By leveraging applications such as PowerPoint, Teams, OneNote, Forms, Outlook, and OneDrive, teachers can streamline administrative tasks, foster collaboration, and deliver dynamic lessons. Embrace the power of Microsoft 365 and unlock new possibilities in your teaching journey. Discover innovative ways to engage students, streamline communication, and optimize classroom management using the robust features of Microsoft 365.
Your Reliable Technology Partner
Everything interesting in business lies in fourth order effects and beyond.